All Day Kajal - Dark Brown
Share
Regular price

₹399

Sale price

₹339
Description

Introducing L Factor New York Kohl Kajal, your ultimate eye-defining essential infused with nourishing Vitamin E and boasting an intense black shade.

Experience the allure of deep, dramatic eyes with our Kohl Kajal. Enriched with Vitamin E, this luxurious formula glides on effortlessly, providing a smooth and creamy application that stays put all day.

Our intense black shade delivers striking definition, making your eyes pop with captivating depth and intensity. Whether you're going for a smoky look or a bold cat-eye, our KohlKajal effortlessly adds drama and allure to your eyes.

The presence of Vitamin E ensures that your delicate eye area is cared for, providing nourishment and hydration to the skin. Say goodbye to dryness or irritation and embrace the comfort of well-nourished eyes.

Indulge in the confidence of beautifully defined eyes that also receive the benefits of Vitamin E with L Factor New York Kohl Kajal. Unlock the secret to mesmerizing and well-cared-for eyes, all in one luxurious pencil.

All Day Kajal (Black) - Intensify your gaze with L Factor New York

Kohl

Kajal - an ultra-creamy, intense black shade for bold, alluring eyes.
All Day Kajal(Brown) - Enhance your eyes with L Factor New York

Kohl

Kajal - a rich brown shade for a soft and natural yet captivating look.
Product Highlights/Benefits

Experience the captivating benefits of L Factor New York Khol Kajal with Vitamin E:

Intense Definition: Our Khol Kajal delivers intense black/brown pigment, creating striking eye definition and adding depth to your gaze.
Ultra-Creamy Formula: The velvety texture glides on smoothly, ensuring effortless application without tugging or pulling on the delicate eye area.
Long-Lasting: Enjoy all-day wear without smudging or fading, keeping your eyes defined and captivating from morning to night.
Nourishing Vitamin E: Infused with Vitamin E, the formula nourishes and cares for your skin, providing hydration and preventing dryness or irritation.
Versatile Application: Create various eye looks, from subtle and natural to bold and smoky, with ease using the versatile Khol Kajal pencil.
Easily Blendable: The formula is blendable, allowing you to smudge and soften the lines for a more smoky or diffused effect.
Suitable for Sensitive Eyes: Ophthalmologist-tested, our Khol Kajal is safe for sensitive eyes and contact lens wearers.
Elegantly Defined Eyes: Embrace the confidence of beautifully defined eyes that receive nourishing care from the Vitamin E-infused formula.

Unlock the secret to captivating eyes with L Factor New York Khol Kajal, a versatile and nourishing eye essential perfect for any eye look.
How to use

To get the most out of L Factor New York Khol Kajal, infused with Vitamin E and intensely pigmented, follow these simple steps:

Prep Your Eyes: Begin with clean and dry eyelids. If you plan to create a smoky eye look, apply an eyeshadow base or primer to enhance the longevity of the kajal and intensify the color.
Start from the Waterline: Gently pull down your lower eyelid to expose the waterline, and apply the kajal in short, soft strokes along the waterline. For a bolder look, you can also apply the kajal to the upper waterline (tightlining).
Line Your Upper Lash Line: Hold the kajal pencil at a slight angle, and starting from the inner corner, draw a thin line along your upper lash line, gradually thickening it towards the outer corner for a classic eyeliner look.
Create a Smoky Eye: For a smoky eye, apply the kajal on your upper lash line and lower waterline. Then, use a smudging brush or your fingertip to gently smudge and blend the kajal for a soft, smoky effect.
Wing It (Optional): If you prefer a winged eyeliner look, extend the line slightly beyond the outer corner of your eye and create a small flick.
Lower Lash Line: To add more intensity to your look, apply the kajal to your lower lash line, starting from the outer corner and moving inwards.
Blend and Soften: For a more diffused look, use a smudging brush or a cotton swab to blend and soften any harsh lines.
Seal the Look: If you want to ensure the kajal stays put all day, you can lightly dust a matching eyeshadow over the liner to set it in place.
Enjoy the captivating and nourishing benefits of L Factor New York Khol Kajal, and embrace your beautifully defined eyes with confidence.
Additional Information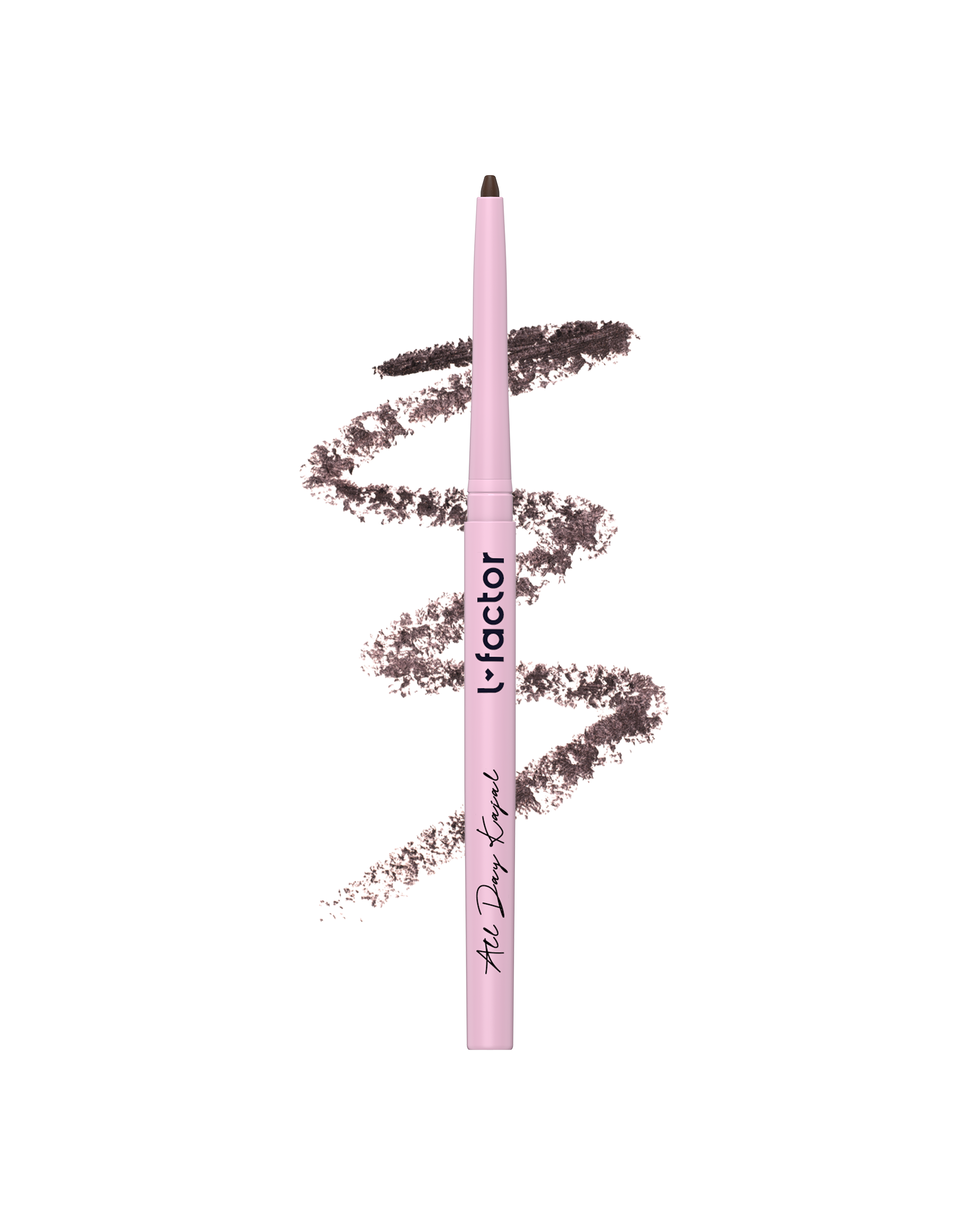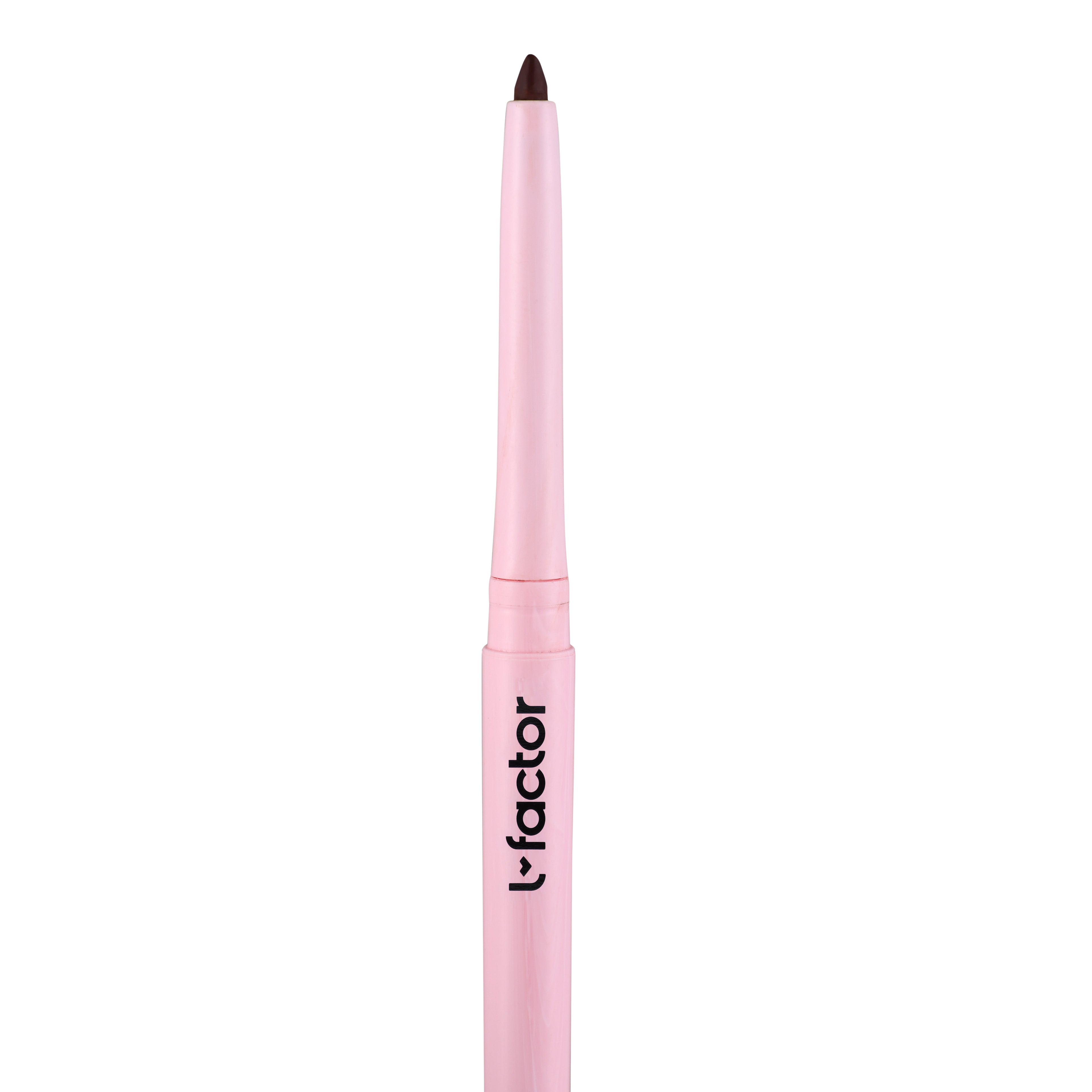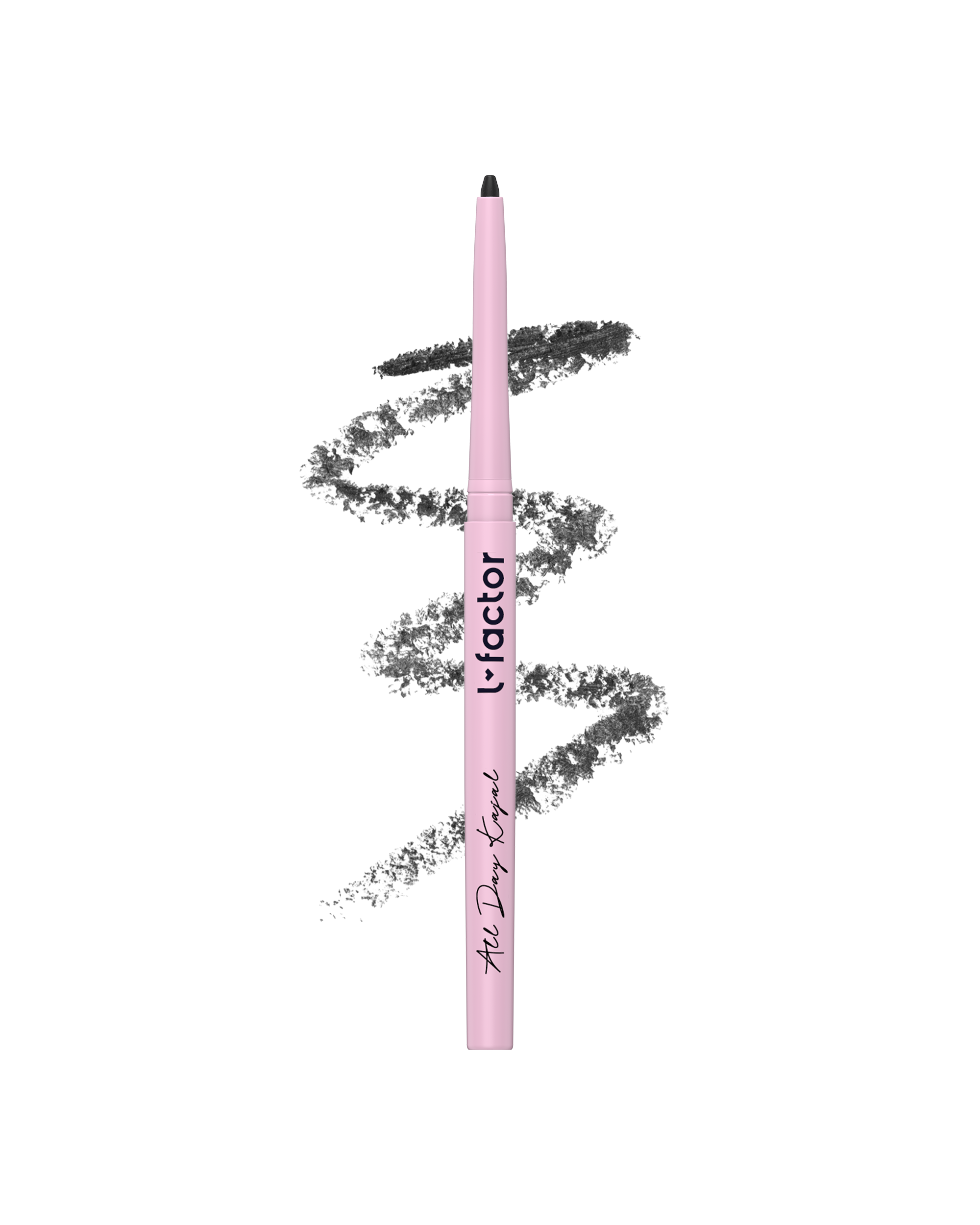 how to use
Glide the All Day Kajal along your waterline or on your eyelid for instant depth and drama, or smudge along the lash line for a sultry, smoky look.
Beauty Breakdown